Welcome to Tykarpsgrottans camping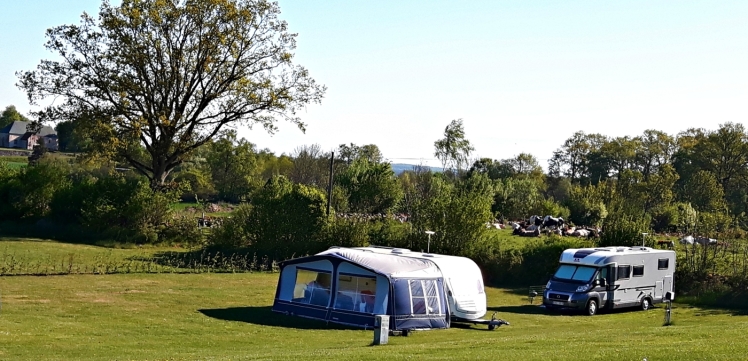 Tykarpsgrottan's Camping is an independent campsite accommodating motorhomes and caravans as well as tents. We believe in generous camping pitches, since we want our guests to experience complete freedom. The campsite offers facilities, such as kitchen, laundry room and newly renovated showers and toilets, in a dedicated cabin just by the campsite. Internet connection is also available.

If you're looking for a peaceful stay surrounded by nature then Tykarpsgrottan's Camping is most likely the place for you. To enjoy and explore more of the local area, you can visit Tykarp village and the closeby village of Ignaberga, with pleasant walking and cycling paths that wind their way through farms and past meadows where cows and horses graze.
Tent
Electricity not included
1-4 persons in same tent 24 h 150 SEK
More than 4 persons in the same tent + 25 SEK/person
Week 750 SEK

Caravans & Motor caravans
Electricity not included
24 h 200 SEK
Week 1 000 SEK
Month 2 500 SEK
Seasonal (April 8th - Oct 1st) 7000 SEK

Campers agree both to keeping the pitch clean and the lawn mowed. Leavning the pitch untidied and/or unmowed is charged per instance or depature.

Cabins
Electricity in included
Smoking and pets are not allowed
24 hrs 600 SEK
Week 3500 SEK

The guests are responsible for the final cleaning prior to leavnig and the cabin has to be approved by campsite personnel. A non-approved final cleaning will be charged.

Electricity
Electricity 3 SEK/Kwh

Laundry & shower
Insert in coin machine
Washer 20 SEK/load
Dryer 20 SEK/load
Shower 5 SEK/5 min
8/4 - 4/6
Sat & Sun 10.30 - 15.30

10/6 - 20/8
Daily 10.30 - 16.00

26/8 - 1/10
Sat & Sun 10.30 - 15.30

Late arrival? More information...